I finally finished my Irish Hiking Scarf! Just in time for the freezing weather again! It's nice and cozy!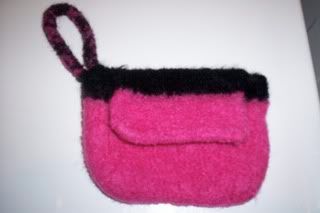 And from my stash... I made my daughter a felted camera bag tonight to match a purse I made her last year!
My biggest accomplishment of the weekend though was this: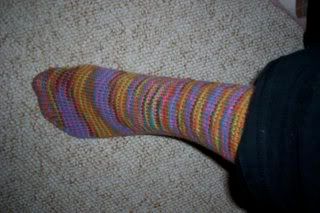 Yes. I do realize it's only one sock, but it only took me about a day and a half to knit and I'm pretty proud of it! The yarn is a crazy colourway called Hot Tamale by Bernat Sox and it was in my stash! I just cast on the second sock tonight, but haven't gotten very far with it (so far not even the first row of ribbing is done, but that's what transit bus rides are for, right?)
Happy stash busting all!