I'm so happy to have finished what I'm calling the Green Bean socks! My BF loves them and claims that they are perfect (which is much better than my last knitting attempt for him)! While not technically stash busting as they are made from gorgeous yarn hand dyed and sent to me by my Knitty.com SP8 partner last month, they are an FO all the same and really, if I hadn't made them, the yarn would have been increasing rather than decreasing my stash so here I present to you Green Beans: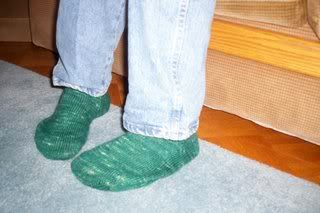 My other little FO is my cell phone cozy that was definately using up some scraps from my stash. I think it's kind of cute and it really helps when I'm trying to locate my phone in the deep dark depths of my purse that I forgot to put a pocket in the lining of! This week's goal is to finish my
"Monkey Socks"
. I'm just about to turn the heel on the second sock, and given that they are the fastest socks to knit ever it shouldn't be too hard to get them done!